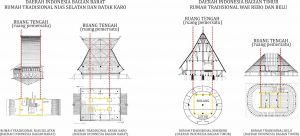 Author: Eugenius Pradipto, Syam Rachma Marcillia
Abstract:
Traditional buildings in Indonesia consist of various types and expressions, with one common thread, namely that each building has the same belief in the big world and the small world. This belief is represented in the building as the head (top), body (center) and feet (bottom) as a part of the building. In the common spatial relationship, the building's central space as the center point, the balance point between the upper and lower rooms as well as the decotomic part around them. This paper aims to describes local wisdom that is manifested in buildings as a form of expression of community trust in responding to situations and conditions of the natural environment and local climate. The content analysis method was carried out to study the influence of different tropical climate types in the western and eastern parts of Indonesia. The results of the analysis show that the influence of tropical humid climate types in the western and eastern parts of Indonesia on buildings is distinguished by the expression of the shape of the roof, walls and floors. Buildings in the western part of Indonesia are affected by a humid tropical climate with more rainfall and higher humidity than in the eastern part of Indonesia.
Keywords: local wisdom, building expression, climate
Full article click here.